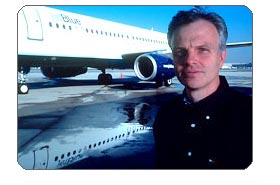 I saw Hal's last post about JetBlue and sent him the following story about JetBlue ( Jetblue Airway Corp - NASDAQ:JBLU) CEO Dave Neeleman and Hal invited me to post the story here.
I recently read the USA Today article that Hal referenced as well as a post by Rob Willars of TheAirlineHub, that JetBlue had their first loss for a quarter in several years. The article interviewed Dave Neeleman. He explained several reasons why the loss occurred (jet fuel prices, increasing cost of maintenance, service interruptions due to hurricanes, increasing cost to integrate their new Brazilian planes into their fleet). He gave straightforward and honest answers - no spin.
He then said:
"...the biggest responsibility I have ... is making sure that we can get an extra $5 or $10 a ticket."
This extra $5-10 per passenger would make them profitable. It was a clearly outlined solution. I bought it.
So, on our red-eye from Salt Lake recently, I noticed Dave Neeleman, the CEO of JetBlue, helping get the passengers loaded (which could be a whole other post - a CEO helping in all arenas) . Once everyone was on board, he introduced himself and said that he would be flying back with all of us (along with his kids). He joked with us and spoke very warmly with us.
At the end of the flight, he stood with the flight attendants and said good bye to everyone as we got off the plane. I took out $5 and gave it to him and told him that I was willing to pay $5 to pitch in and do my part to help
JetBlue
be profitable. He laughed and wished me well.
What did he do right?
1. Gave clear and concise communication as to the causes of the problem
2. Outlined clear steps they were going to take to resolve the problem
3. Explained to their customers in a definable way what the impact on their lives would be.
I bought it. And I will remain a
JetBlue
customer, even if the flight does cost me $5 more.
p.s. Apparently, I am not the only one who has done this according to
this post:
Neeleman... says people in airports sometimes give him five bucks in cash saying it's their contribution to help make sure JetBlue survives.
Others who think JetBlue is different, even in the face of some adversity, can be found
here
. Here is a
audio clip
by Neeleman about adversity by USA Today.